Issued by the federal agency of air transport southern inter-regional territorial authority of air transport (Ministry of Transport of Russian Federation).
This is to certify that Lygin Sergey Vladimirovich complies with the requirements of the federal aviation regulations for legal entities and individual enterpreneurs performing aerial work and is authorized to perform aerial work in accordance with the terms and limitations contained in specifications of the present air operator certificate that is the integral part of it.
Airports (airfields) of location: Beketovka.

Permitted aerial operations: Aerial Crop Spraying; Aerial Videography.

Approval date: June 30, 2022

Expiry date: until the day of its cancellation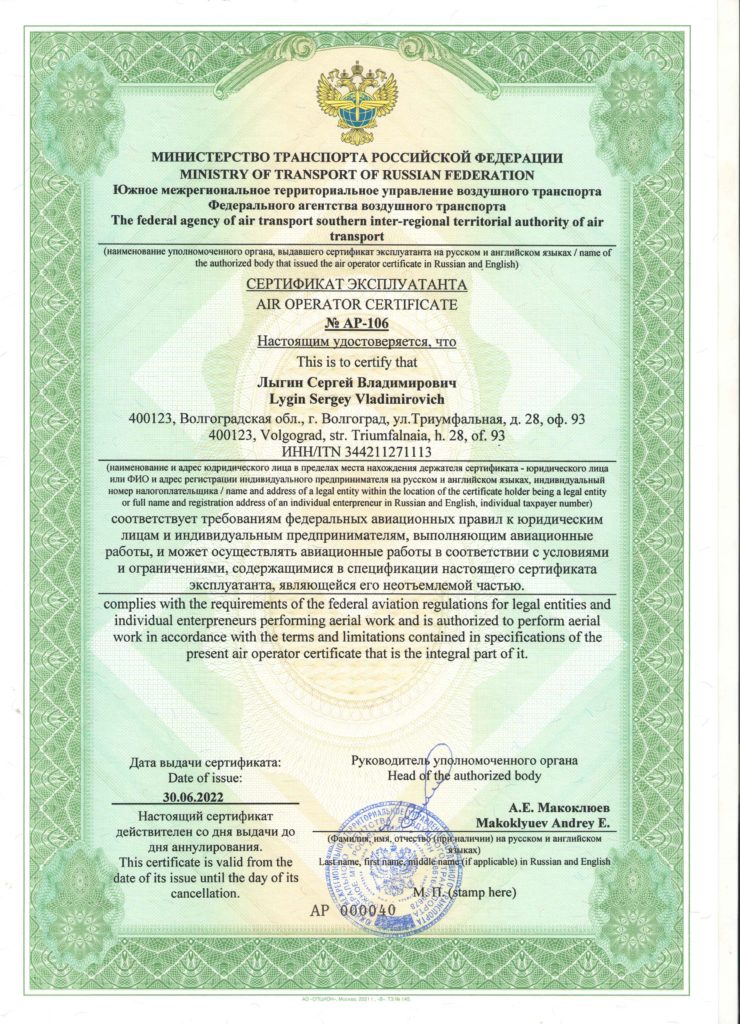 Air Operator Certificate No. АР-16-12-75
Issued by the South Interregional Territorial Department of Air Transport of the Federal Air Transport Agency (the Ministry of Transport of the Russian Federation).
It is hereby certified that the individual entrepreneur Vladimir Vitalievich Lygin complies with the requirements of the Russian air legislation to individuals and legal entities carrying out aviation works, and is entitled to conduct aviation works under conditions and limitations listed
in the specification which is an integral part of this certificate.
Airports (airfields) of location: Beketovka.

Permitted aerial operations: Aerial Crop Spraying; Aerial Videography.

Approval date: June 26, 2019

Expiry date: June 26, 2022