The SP-30 (СП-30) aircraft is a multifunctional, full-metal, two-seat aircraft. Rotax 912 ULS engine, 100 HP, provides a maximum speed of 150 km per hour and a cruise speed of 100 km per hour. High-lift wing devices and wide tires of the landing gear allow operating the aircraft on small airfields and sites. Due to its efficient aerodynamic design, the aircraft is easy to fly and has significantly fewer limitations than other aircrafts of its class, which makes SP-30 more reliable. Its fuel consumption is 20 liters per hour. The aircraft can be transported on a special automobile trailer to any remote or hard to access areas.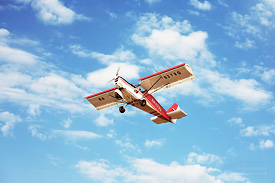 SP-30 Key Performance Data
Maximum speed: 150 km / hour
Minimum steady flight speed: 65 km / hour
Cruise speed: 100 km / hour
Takeoff run (landing run): 70 m
Maximum takeoff weight: 500 kg
Payload: 150 kg
Seat capacity: 2
Engine: ROTAX 912 ULS
Engine horsepower: 100 HP
Fuel: regular petrol AI (RON) 95
Fuel consumption per hour: 17-22 liters
The aircraft is equipped with GPS, a VHF radio, necessary equipment for flying under visual flight rules (VFR), and an optional aircraft parachute system. The design of the aircraft permits installation of additional equipment up to 150 kilograms to accomplish some specific tasks. A flight is carried out in accordance with VFR. The aircraft is continually tracked by an automated tracking system, which sends real-time data to a control center.